Escale à la Grange aux Belles
/ / 2017
" "
Delphine Blast, Le peuple Wayuu, ou la lutte des femmes pour la survie de leurs terres sacrées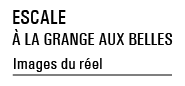 Escale à La Grange aux Belles has been proposing for 5 years photoreportage exhibitions focusing on our contemporary world and aesthetic issues of images. They are in the line of the citizenship mission aiming at popular education and supporting CRL10 young creation. That association runs 4 animation centers in 10th arrondissement.
In 2017, Escale à la Grange aux Belles exposes the work of 8 rising French photojournalists, warrantors of the quality of news. All of them have an individual view about exil, identity and territory.
Hugo Aymar, Romain Beurrier and Corentin Fohlen have followed for a few months exiling refugees (mainly in Eastern Europe and France), while Jan Schmidt-Whitley followed Kurdish people from Turkey, coming back to their destroyed city.
As for Eloïse Bollack, Delphine Blast, Julia Beurq, Anne Leroy and Elliott Verdier, they go back to the origins, and highlight peoples fighting for the devotion to their territory, customs, roots, wether in Cisjordan, Mongolia, Romania, or Colombia.
Escale à la Grange aux Belles is a place for debates, meetings with any public, and pedagogical action for schools. The exposed photographers accompany this approach by explaining the context, realisation and off-screen life.
With this full cycle, Escale à la Grange aux Belles  proposes to visitors –amateurs or professionals– to take the time to think.
Infos pratiques :
From January, 31st to March, 10th 2017
Opening on February 2nd
Centre d'animation de la Grange aux Belles, 6 rue Boy Zelenski, Paris 75010
+33(0)1 42 03 40 78
hours:
Monday: 10:00 – 16:30 // 18:30 – 20:30
Tuesday: 11:00 – 16:30 // 19:30 – 20:30
Wednesday: 10:00 – 14:00 // 18:00 – 20:00
Thursday: 12:00 – 14:00 // 16:30 – 20:30Vernissage le 2 février
Friday: 11:00 – 16:30 // 18:30 – 20:00
Saturday: 10:00 – 13:30 // 14:30 – 17:00
(hours change during holidays, please call +33(0)1 42 03 40 78 for further information about them)
Further information about this partner place here.
VOUS AIMEZ?